Terrorist threat against Madonna gig following Pussy Riot support
US officials issue warning to St. Petersburg ticket holders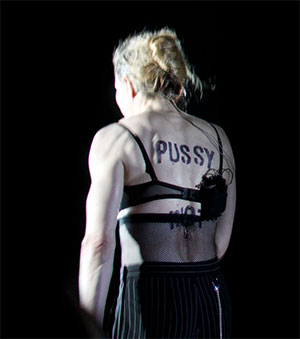 The US embassy in Russia has received information of a terrorist threat to Madonna's concert in St. Petersburg tonight (August 9).
An official statement reads: "US citizens are reminded to remain vigilant regarding their personal security, and to be aware of their surroundings at all times, especially in crowded areas."
It is unclear whether there has been a specific threat to Madonna herself but the situation is thought to relate to the singer's vocal support for jailed Russian punk band Pussy Riot.
The feminist group, currently facing up to seven years in jail for 'hooliganism motivated by religious hatred or hostility', have attracted support from a variety of music stars including Red Hot Chili Peppers, Jarvis Cocker and Sting.
Madonna was initially muted in her support, saying simply that she was "sorry" to hear of their plight but has become increasingly vocal in recent days.
The Express Yourself singer stripped to reveal the band's name on her back during a concert in Moscow on Tuesday night, telling the crowd "Tonight and every night, I like to live", adding later that she was praying for the women's freedom.
Nadezhda Tolokonnikova, Mariya Alekhina and Yekaterina Samutsevich were taken into custody in February after singing an anti-Putin protest song in a Moscow church.
Watch footage of Madonna expressing her support in Moscow below:
Are you sure you want to delete this comment?
James Hurley

Thoughts, observations, and the occasional rant...Latest music news, reviews, gossip and releases with MSN's Music editor James.
Which music festival are you most looking forward to?
Thanks for being one of the first people to vote. Results will be available soon. Check for results
Total Responses: 855
Not scientifically valid. Results are updated every minute.