Britney Spears' new music video: Criminal
It'd be a complete crime not to have a watch of Britney Spears' new music video.
Britney Spears has been a lot of things in her music videos: a schoolgirl, an air hostess and even a circus ringmaster, but her latest venture sees her exploring a side of her we've never seen, until now... that of a criminal.

Yes, Britney's new video sees her taking to a life of crime with her real-life boyfriend Jason Trawick.  After watching the finished thing, we have to say it's certainly not for Britney's younger fans! It's pretty jam-packed with violence, raunchy scenes and crime, so much so that for a second you'd be forgiven for thinking you were accidentally watching a Guy Ritchie gangster flick!

Steamy scenes aside though, the video is actually rather compelling and feels more like a short film rather than a pop starlet's music video.

Here are our personal highlights from the video:

0.04 – We spy Britney at a swanky cocktail party where everyone is wearing posh frocks and suits - tres fancy!

0.10 – Britney turns around in a gorgeous gold cocktail dress and a sophisticated up-do. She looks utterly fabulous.

0.15 – But all is not well at this party, as Britney's date starts being mean to her and tells her that she's "embarrassing him". The cheek of it! The actor's accent also changes from posh English to east-London gangster. Remarkable.

0.25 – Yikes! The posh/gangster guy just grabbed Britney by the face. No one does that to the queen of pop and gets away with it!

0.36 - Britney runs away and is seen crying in the mirror. It's nothing a bit of product placement won't solve though, as Britters reaches for her own brand of perfume, sprays herself and then suddenly everything is all better.

0.50 - Britney emerges from the ladies to see that her date is chatting up someone who looks suspiciously like Michelle Heaton. The princess of pop isn't too happy with this and she breaks the couple up and comes out with the corker: "So, you're not working the street corner tonight I see?" Meow - go Britney!

1.00 - Suddenly, Britney's date turns a little bit psycho and drags her out of the party. How rude! It all gets really serious and a bit uncomfortable now, as Britney's evil date hits her!

1.09 - But who's this? Britney's real-life boyfriend Jason Trawick runs to the rescue and beats up Britney's evil date – Kapow! We don't condone violence but he had it coming. Random observation – over a minute in and the music hasn't even started yet...

1.28 - Finally, the music starts and we see merry old London where the video was filmed. It never looks this glamorous in real life... Britney jumps on the back of Jason's motorbike and they speed into the distance.

2.09 - Britney goes back to Jason's house and discovers he has a gun! We have a feeling that he may be a criminal. But instead of leaving, things get steamy as the pair share a snog. Things get even steamier and we're suddenly watching pure raunch!

3.29 - We see the scenes that were filmed earlier this year in North London, Britney and Jason robbing a bank – is there no stopping this devious duo?

3.44 - There are now some very steamy shower scenes. Probably not a good idea to watch this video at work... But, while Britney and Jason are in the shower, the police close in on them!

4.25 - Britney and Jason finally decide to put some clothes on, but the police have their house surrounded. The fuzz then start shooting at them and bullets blast through the walls. The couple seem oblivious though and instead, start kissing again. This is turning into a total kiss-fest!

5.09 - Ah, but they must have kissing-induced magical powers though - the couple miraculously escape unhurt at the end of the video despite the fact they were showered with bullets! Nothing can stop Britney, not even the British police force!

Below - Pics of Britney Spears shooting her Criminal music video in London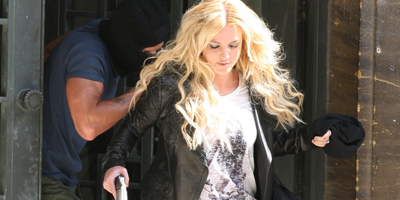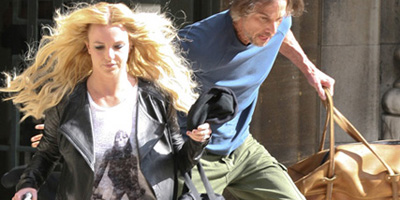 Are you sure you want to delete this comment?
James Hurley

Thoughts, observations, and the occasional rant...Latest music news, reviews, gossip and releases with MSN's Music editor James.
Which music festival are you most looking forward to?
Thanks for being one of the first people to vote. Results will be available soon. Check for results
Total Responses: 879
Not scientifically valid. Results are updated every minute.