Peaches makes a boob of herself
Canadian singer Peaches turns a few heads at German music festival
Here at MSN we like to keep abreast of the latest trends, and it appears the weirder and wackier, the better!

Watch out Lady Gaga: you've got some serious competition in the shape of Peaches.
Photographed here performing at the Portland Festival in Hamburg, Canadian singer Peaches made a tit of herself in a rather Lady Gaga-esque outfit.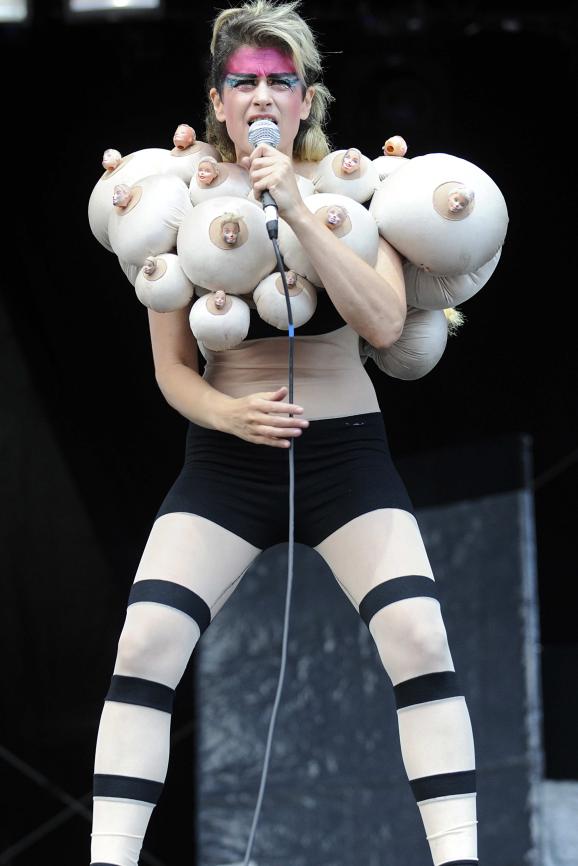 But does she look like more of a boob than a style queen? That's not for us to judge, but a picture speaks 1000 words and this titillating photograph is screaming LADY GAGA at us.
Fair play to the self-proclaimed performance artist, as she reportedly plays all her own instruments for her songs, programs her own electronic beats and even produces her own albums! (Serious musical respect earned for that.)
To make a clean breast of it (sorry) and tell the truth, we're not sure the world is ready for another Lady Gaga. Sorry Peaches.

Yet again MSN uses 17 year olds to write articles. Peaches was the original, Gaga is a diluted rip off. Maybe the world isn't ready for terrible journalism. Even looking on Wikipedia would tell you she's been doing this for years and has worked with Christina Aguilera and Iggy Pop, to name just two, and has won awards all over the world for her music as well as acting with John Malkovich. Ugh MSN is bad, getting worse by the day it seems. "That's not for us to judge" you say? Too right, if us is you, Felicity Thistlewaite, your name says it all. Go back to writing croquet articles or whatever it is they have you do on intern shifts and first rule of journalism? Research your subject.


What a poorly Researched article. What are you, fresh out of college? You do realize Gaga has been Knocking off Peaches for years now. Also what is with the attitude? You sound sophomoric and uninformed.  As a journalist you should really be doing more research. You obviously have done very little. Peaches has been around far longer than Gaga (since about 2000/2001). I can't believe MSN published such a snarky article. I fear you are better off writing for Perez Hilton than a legitimate news site. A proper journalist would right a retraction. This looks like it was written by an ill-informed, snarky, and pretentious intern. 
Are you sure you want to delete this comment?
James Hurley

Thoughts, observations, and the occasional rant...Latest music news, reviews, gossip and releases with MSN's Music editor James.
Which music festival are you most looking forward to?
Thanks for being one of the first people to vote. Results will be available soon. Check for results
Total Responses: 846
Not scientifically valid. Results are updated every minute.